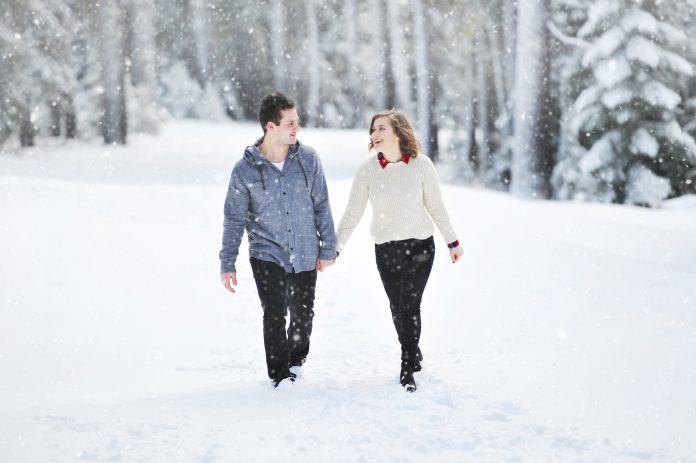 Are There Any Best Destinations in the USA to Escape From Winter?
Yes exactly, the USA has geographical features like the Atlantic ocean on the east coast, Pacific Ocean on the west coast, mountain ranges, etc.. it has five different regions with unique seasons, so Northeast has "cold winters with ice storm and snowstorms and semi-humid summer", West Coast has "cool, wet winters, dry and cool summers", Southeast has "humid, subtropical, warmish winters and hot summers", Midwest has "humid summer and winter much colder than in the Southeast", the USA has typically all seasons and beautiful destinations, so you can find best hot or tropical destinations in the USA to escape from winter.
Winter vacation is the most awaited one since it comes with Christmas & New Year seasons you may feel like spending your vacation somewhere in a hot or tropical destination, so no worries, google it and search, you can find many destinations which are famous for "Winter Escapes" in the USA", so enjoy it, select the best "Winter Vacation destination in the USA to Enjoy Warmth".
Here we go the Best Destinations for "Winter Vacations in the USA (Escape from Winter)"
Families and friends may feel like having a winter vacation in the USA, but want to get rid of cold, feel the warmth. They are trying to find the Best winter vacations in the US. So, you can choose a hot or tropical climate destination in the USA, but hopefully, you can have your best choice.
Really want to make your vacation warmer? Here will explore
1. Florida
"City Life"
Florida is a state in the southeasternmost USA, it is surrounded by one side of the Atlantic on the other side Mexico. It's known for its beaches, nightlife, culture, amusement parks and many more, the best time to visit Florida is November to mid-May. It has approximately 126 million visitors yearly, and also there are many things to do.
For sure you will feel the warmth.
Things to do in Florida
Walt Disney World Resort
Everglades National Park
Magic Kingdom Park
Universal Orlando Resort
Disney's Animal Kingdom Theme Park
Disney's Hollywood Studio
Amelia Island and many more things to do
Where to stay in Florida?
You can stay in Lake Orlando because it has five Disney parks, so you and your family can enjoy it a lot.
Best Foods in Florida
There many famous foods in Florida are "Florida Orange Juice, Key Lime Pie, The Cuban Sandwich, Conch Fritters, Florida Stone Crab, Craft Beer and many more to taste"
2. New York
"Iconic City in the USA"
New York is a city in the USA, the Brooklyn Bridge is one of the landmarks in New York, the Statue of Liberty is the historical landmark in New York, more than 85 million people are visiting yearly. So the best time to visit New York in April to June and September to early November, remember you can enjoy a fun full nightlife in Manhattan, and also there are many more things to do.
New York gives you the warmer hug to escape from winter.
Things to do in New York
Central Park
Statue of Liberty
Time Square
Brooklyn Bridge
Coney Island
Battery Park
Manhattan Nightlife
Roosevelt Island and many more things to do
Where to stay in New York?
You can stay in Midtown and downtown Manhattan, it is really walking distance to more key attractions, so this is the best choice.
Best Foods in New York
You can taste New York's best foods like "New York Style Cheesecake, Manhattan Clam Chowder, New York Style Pizza, Corned Beef, Baked Pretzels, and many more foods", also you can find leading restaurants in Manhattan, so try to taste New York's special.
3. Arizona
"Grand Canyon National Park" Landmark in Arizona
Arizona is a state in the southwestern USA. It is known for "Grand Canyon, River, Flagstaff, Mountains",
Its geological landmark is "Grand Canyon" national park, so you also can visit the Grand Canyon, also Nearly 45 million people from all over the world are visiting Arizona yearly, the best time to visit Arizona is from November to April. Even if you can enjoy a better nightlife here. There are also many more things to do.
"Valley of the Sun"
Things to do in Arizona
Explore Grand Canyon National Park
Hike in the Rocks
Visit Lake Havasu City
Sonoran Desert Safari
Enchanted Island Amusement Park
Golfland Sunsplash
Oasis Waterpark and many more things to do
Where to stay in Arizona?
Convenient accommodations could be found at "Downtown Phoenix, Encanto, Paradise Valley, North Mountain, Camelback East,", Encanto is known for its nightlife, so stay here and enjoy.
Best foods in Arizona
Many iconic foods like "Arizona/California Burrito, Cactus Fries, Chile Relleno, Arizona Cheese Crisp, Apache Trout", never forget to taste these wonderful foods
4. Hawaii
"Explore Tropical Hawaii"
Hawaii is a state of the USA, it completely made of islands. It is known for "beaches and Volcanoes", it is better known for its tropical climate, Hawaii is one of the most beautiful places on earth, best months to visit Hawaii April, May, September and October, more than 10 million people are visiting Hawaii yearly from all over the world, it has good beach life, and you can try many things to do.
"Hawaii Welcomes you to feel the warmth"
Things to do in Hawaii
Explore Hawaii Volcanoes National Park
Diamond Head
Aqua Park
Hanauma Bay
Pearl Harbor
Molokini – Snorkeling Site
Honolua Bay and Water Sports
Parasailing at Waikiki Beach and many more things to do
Where to Stay in Hawaii?
You can stay at "Oahu, Maui, Kauai, Lanai, Molokai", but most recommended is Oahu since it is more convenient for travellers. So you can find beachside hotels and hostels.
Best Foods in Hawaii
Many foods are there like "Poi, Laulau, Kalua Pig, Poke, Lomi Salmon, Chicken Long Rice", try these unique tastes.
5. US Virgin Islands
"Island Groups"
Virgin Islands of USA, beautiful three islands, is known for "Sand Beaches, Magens Bay, Anegada Passage and many more, it has a tropical climate, the best time to visit US Virgin Islands is April to June, never miss duty-free shopping.
Since this is a tropical climate tour, you will definitely feel the warmth of these islands.
Things to do in US Virgin Islands
Trunk Bay
Magens Bay Beach
Buck Island
Coral World Ocean Park
Virgin Islands National Park
Tree Limin "Extreme Zipline" at St. Thomas and many more things to do.
Where to stay in the US Virgin Islands?
You can stay at St. Thomas, it is a commercialized island so you can stay at a reputed star class hotel.
Best food in US Virgin Islands
St. Thomas island has high-end restaurants, the best foods are "Fungi, Johnny Cakes, Bull Foot Soup, Pate, Roti, Conch, Lobster, Callaloo Soup", don't miss tasting these foods.
You can also visit many more places in the USA, it has more coastal areas, tropical islands, mountainous places. So whenever think of Escape from Winter, definitely, you will think of USA, you can visit with your family or friends to any part of USA, walk in the streets, enjoy beach games, see tropical gardens and many more to do and see, also never forget to capture these destinations in your digital recorder.
Above we saw many destinations in the USA, some are hot and some are tropical destinations, but basically during winter vacation people may looking forward to visiting bit of a hot or tropical climate destinations to feel warm, so it is good to travel somewhere away from city, such places like beaches, forests, mountains, national parks, hotels, etc.. and also some people may like to enjoy only the scenic tours, these destinations are more tropical and nature-related places, the destinations are really good to get rid of cold weather, so in the above article we discovered many beautiful places and had a good idea about "Best Winter Vacations in the USA (Escape from Winter) ".
I hope this article is really useful for people whoever looking to "Escapes from Winter". I hope you have now explored Best winter vacations in the US.