Who doesn't love travelling? to breath in a whole new place, taste different food, experience different cultures, meet new people, learn new things, Oh boy I can keep this list going on for hours, anyway, for me personally, there is no other word makes me excited like "travelling" and the most important thing I expect from a journey is not how luxurious the hotel I stayed or how expensive are the things I've shopped, it is the experience that I gained to my life book.
your "Budget" becomes the most critical factor when deciding on a location to travel, how many times you had to cancel or postpone your dream vacation because of the budget? but we might still manage to visit the dream location with the same budget by changing a few other important factors like the place you stay, what time of year we are travelling, changing the destination airport of the country and managing to find a taxi or public transportation to reach the specific destination and most importantly reducing the airfare.
In this article we provide you with information about the cheapest flight apps which actually help you to reduce the airfare, There are many great apps with great features that watch best flight deals for your favourite destinations. Not only these free apps provide cheap flight details but also some apps help you to plan your whole journey while providing many up to date information. It will cause a serious impact on your budget in a good way and help you to collect extraordinary memories for your life book.
Interested?? Let's dig in…
1. Skyscanner
Skyscanner helps you with finding and booking your holiday needs really easy. The app connects you with the best deals on flights, hotels, hostels, apartments, resorts, and hiring a vehicle during your journey. It shows price comparisons between hotels, flight, and car hire providers so that it helps you to book your whole trip in one app. It's one of the cheapest flight apps also a wonderful tool for tracking prices, with a handy alert if what you are looking for comes up at a bargain price.

It provides travel inspiration with an "explore" feature and even suggests activities for your destination. The custom search function also beneficial if you want to manage things of your own.
If you are a person who travels often, that will probably get the most benefit because of the loyalty option in profile for collecting miles. The tracking feature is especially supportive in securing the best prices on flights, and insights on the cheapest times to travel with no booking fee at all. So great isn't it?
You can download this app by clicking the following links. And also don't forget to log in to the Skyscanner website for more details.
2. Kiwi
Kiwi allows you to search for flights like all the other apps but also if you want to combine plane, train & bus tickets all under using a single app. You can go straight to exploring the tourist sites in the city that you are visiting, rent a car or start booking your accommodation. The database contains more than 2 million hotels provided by Booking.com, so there are a lot of facilities to choose from.
Except for selling air tickets, Kiwi. Can also sell tours and tickets to sights and museums, while offering its customers a whole new level of travel experience. The database contains more than 70,000 tours and activities from all around the world.
Kiwi provides multilingual support and currently, 14 languages are available with the app. when purchasing tickets to any place around the world, this option makes things easy as the information is in your familiar language, if you could select language option in trip planning section of the app also it supports to plan out a trip to the destination you are travelling to

Moreover, kiwi is one of the cheapest flight apps, which focusing on becoming the world's leading online travel agency, providing its customers with everything they need or want to know while making their customers' trips easier and more enjoyable.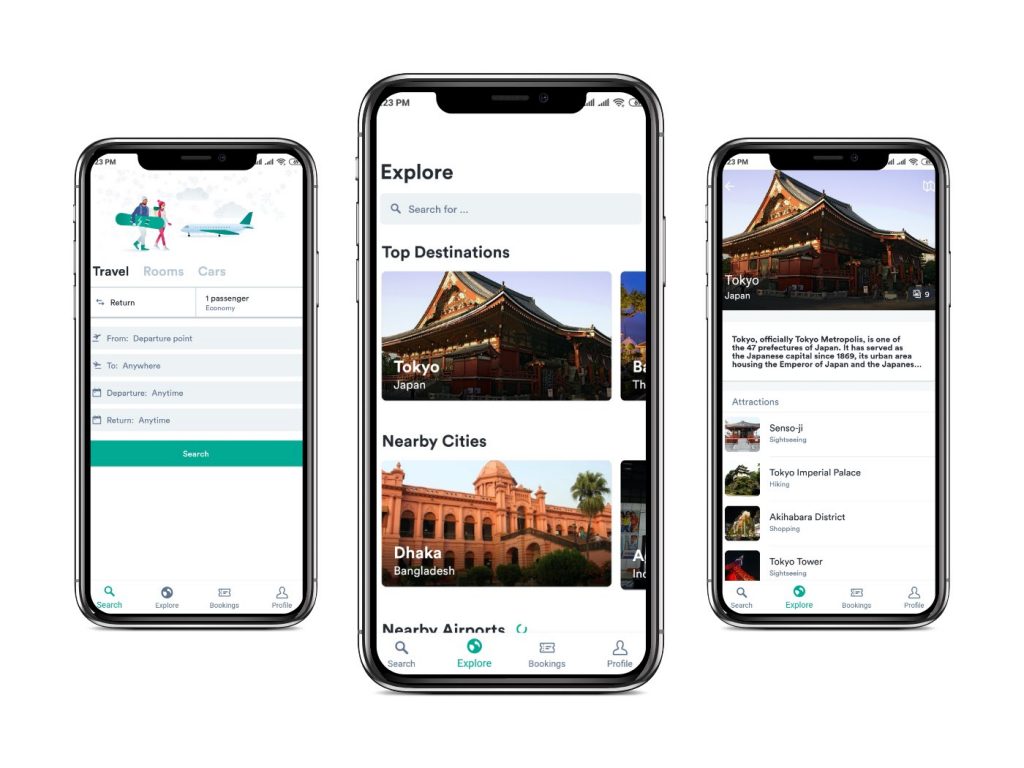 You can download kiwi by clicking the following links. And also you can log in to kiwi.com for more details.
3. Momondo
It's hard to find the best source for your travel needs, as simply there is so much information and availability and you can never really be sure if you're getting the best seal. One solid alternative for this complexity is the "Momondo app". It is one of the cheapest flight apps that work as an independent aggregator' which searches across the web for the best airfares and was found to be effective 95% of the time.
Momondo is very much helpful in finding flights any whare in the world and also it can compare and book flights you f. The "Explore anywhere" feature in this app is very beneficial in case you are still deciding where to go. You can simply search what type of trip, where to, number of passengers, then you can also select travel class and travel dates and in your search.
What is neat about Momondo is that it has a feature that enables you to hit a 'price calendar' after you've made the search. it shows cheaper days according to your search if you can change your plans you can save some money if you want. So cool isn't it?

You can download kiwi by clicking the following links;
4. Kayak
Kayak offers an easy way to search for dates, destinations and easy to use filters to narrow down your search little alike Momondo. Kayak app has got you covered with all your vacation planning, pulling in flight, hotel and car rental information from hundreds of sources to make booking your travels as easy possible. You can select one-way, multi-city flights or round-trip, even you can use filters to see what's the cheapest, quickest or earliest.
this is one of the cheapest flight apps for you to find places to stay, you can search through a variety of filters, including price, name, location, amenities and the beautiful thing is that you can change even ambience of the place; for example use words like romantic, serine, seaside, windy and more keywords and you will be able to fulfil your fiancé's request by finding the exact place he or she described to spend your honeymoon.

This app enables you to book vehicles that you plan to be used during the journey; you can make selections using such filters as car type, rental agency and design that includes how many numbers of doors, convertible, automatic/manual transmission and many more.
The expansiveness of the search option is so amazing that you can even type in designated emoji to bring up select cities. For example a 'maple leaf' for Toronto.

Once you want to make a booking, it will open the relative site in-app, so you don't have to go back and forth between your phone's browser and the app. There is also a phone icon underneath each specific travel method that gives you a direct way to contact companies should you need any assistance. Once booked, travel and tracking information will be available in the app.


This app also has a desktop version that can be used under one unified account with the app. It helps streamline everything and the overall process much simpler Note: signing up for an account can give you hotel deals of up to 35 percent off.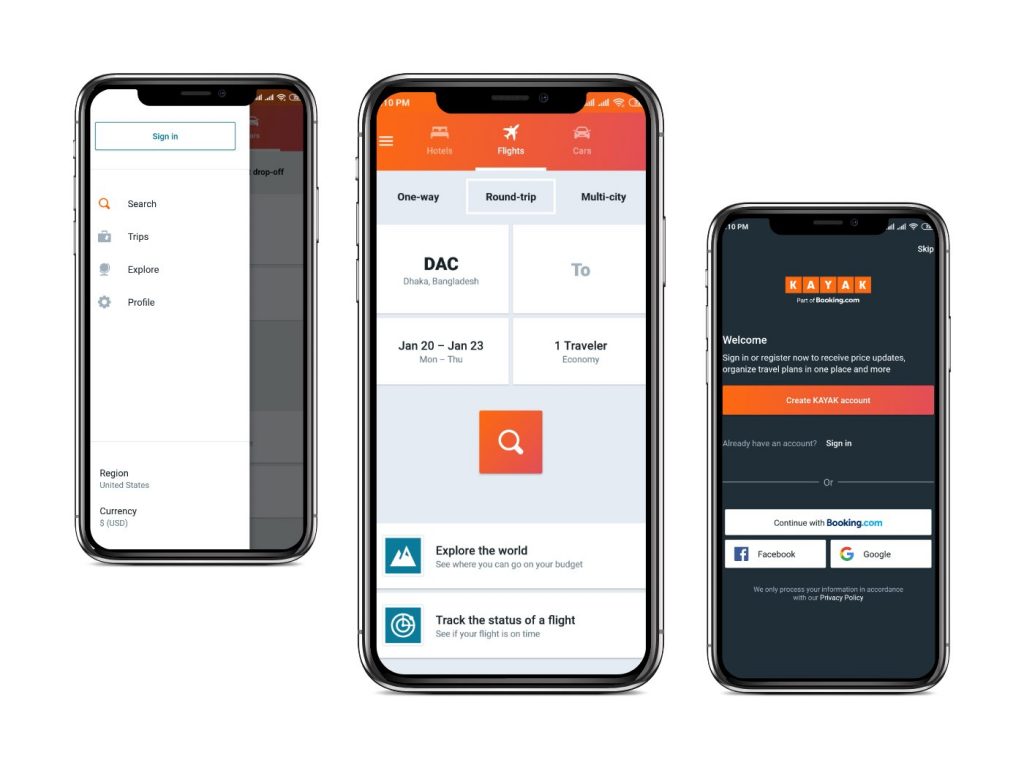 The app is available as a free download on iOS and Android devices. You can click the links below to reach.
5. Hipmunk
There are so many travel apps out there in the market, but Hipmunk app can book tours around the world as an all in one travel planner. This app scored 4.8/5 rating in iOS and 4.3/5 ratings in Android as the booking agent. If you put in use Hipmunk does a great deal in your all travelling needs.
The best feature in the app is chat assistance via Facebook messenger, Slack, and Skype. Hipmunk helps all travellers in making their booking smoothly and successfully. This feature offers you the personal touch even if you have the app on hand, without just leaving you wander here and there. These assistants also advise you on the best deals and perfect location for any type of holiday. The way of displaying the results and support on buying options over time can offer some added value when comparing your flights. It promotes you to book through the app with much confidence.

You can download Hipmunk by clicking the following links;
6. SeatGuru
SeatGuru is not merely a booking app. It supports you to view your seat options in advance before checking in rather than just helping you book the flight. There is nothing more important than a comfortable seat to spend the rest of your journey, especially on longer flights.it gives you information about exactly where the best seats are and what drawbacks some may have. It's important to select the best seat if you are sitting in the limited space of the economy cabin. also, you can check the photos of that flight, submitted by the other passengers.
it will show you all the seat options available you only have to type your flight number, airline, and date in the app. Use the colour-coded seats of green, yellow, red, and white to find out which seats suit you best in the seat map of your flight.
Like all apps, this one needs some fine-tuning but it is a wise decision to save space for SeatGuru on your mobile.
You can download SeatGuru by clicking following links
7. Skiplagged
Skiplagged supports you to catch exciting deals on cheap hotels and cheap tickets. So, if you are looking for an alternative through which you can save time, effort, and of course money, the Skiplagged app seems to be one of the best picks this is one of the cheapest flight apps that you'd want to consider trying. This is an excellent platform and counted as one of the best flight planning apps in the app stores that offer cheap flight tickets, best hotel deals, and last but not least, exclusive hidden flight deals.
The Skiplagged application is one of the best travel apps out there which can also be used as a travel planner .it provides suggestions of travel destinations. The app shows a list of the discounted tickets and cities that the users can utilize for their travelling needs.
Skiplagged is a somewhat questionable app, avoided by many airlines because it allows the users to save the airfare by searching for flights where you get off at a layover, instead of at the final destination. Sometimes the business class tickets can even get cheaper than the economy class.
Searching for flights on Skiplagged is super easy, when you open the app it will provide you with various options that are available. Select your trip type whether its roundtrip or one-way trip. Then click on "Search Flights'' option then the app will automatically display the lowest deals along with "Skiplagged rate". Moreover, the user also has the option to filter out their preferred options in terms of the number of stops, preferred airlines, flight duration, layover cities and many more. Skiplagged finds the flights that are directed towards the selected destination and the flights which have a stop on the destination. The app uses this data to find the cheapest deals.
The app has some limitations, which may be a concern for many people. There are essential points that you as a user need to be aware of while you are using the app;
Do not check bags because bag check-in in such flights can't be done, as the bags may land up in the destination city, rather than the desired one. Instead, opting for a carry-on is fine.
You might require a visa for some international flights, but it depends on the final destination country.
Do not involve a flyer account that is frequently used by you.
Do not overuse the hidden-city itineraries.
In some unlikely situations regarding irregular operations, for example, bad weather, the itinerary may change at the discretion of the airline.
Do not try this quite often as you might end up upsetting the flight.
You can download Skiplagged by clicking following links
8. Hopper
Hopper is a famous airfare prediction app that aims to facilitate travellers with the best flying deals, saves you from overpaying and helps to plan your trip in a more productive way. It provides personalized recommendations such as how to adjust your trip plans to save more money, which travels deal can benefit. In this way, you can have a customized flying experience and the predictions have been accurate 95% of the time.
The app constantly tracks the fluctuations in ticket prices. You can set up a watch list of your preferred destination and receive notifications when the prices score low.it charges a convenience fee of $5 to its users. Currently, it is having a user base of 6 million, keeping an eye on around 2 billion flight prices per day and sending out 12 million notifications to users per month. This is one of the best cheapest flight apps that you want to consider keeping near fingertips.
Download the app from these links
9. Expedia
Expedia is a great app to compare flights, just follow the easy to use navigation and you are good to go. This app allows you to search for hotels, flights, car rentals, book trips. Furthermore, Expedia has features to deliver interactive notifications with information about important changes, reminders, and statuses for upcoming trips and flights.


You can download the Expedia app by clicking the following links;
All these flight booking apps can offer similar features, but prices and flight options may vary .when you're booking a flight it might be a good idea to search for the same flight using different apps and compare what's working best for you. Travelling around the world is an amazing thing that you can possibly experience in your life, with these cheapest flight apps you can make it more easier and make it budget-friendly so that it allows you to run things smoothly without taxing on your bank account. We hope this great travel tip about mobile apps will be much more productive in your next flight experience.