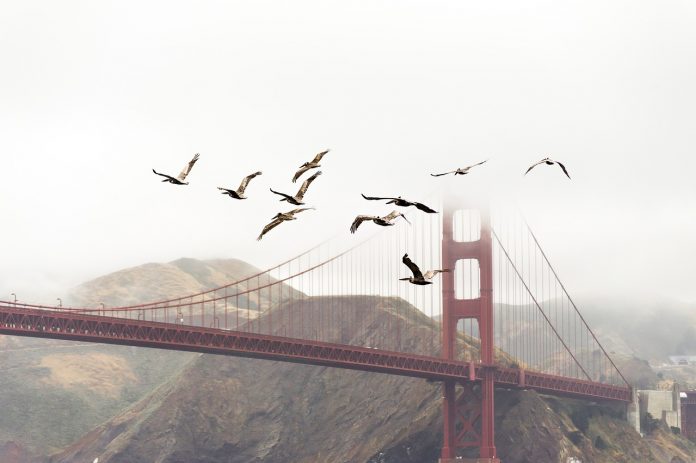 Psst pst… Wanna know some facts about San Francisco's Giant Beauty? Then grab a snack settled in, well technically we all have seen this scenario in our childhood from the old postcards sent by our relatives, friends or grandparents who worked oversees. We will discuss some facts about the golden gate bridge.
If I go back to the good old days I used to collect these postcards and paste them on walls, book covers everywhere. I was so obsessed with picture-postcards (not the point I know).
What's Good About Golden Gate Bridge?
This reddish-orange giant bridge was one of the many favorites I've collected because I was amazed by its hugeness. I used to wonder 'wait how did they make that on the water, and it can touch the clouds' (I didn't skip third grade I was just dumb) yeah.
So that's what I thought, let me get to the topic straight but I'm pretty sure when I say 'bridge'. I'm talking about none other than San Francisco's most Highlighted Golden Gate Bridge. It's actually the most photographed bridge in the world and san Francisco's most popular landmark.
Let's Explore Golden Gate Bridge
As I mentioned above, I always used to wonder 'How did they build it? Who Built It? How is that bridge touches the clouds' so here's what my young version going to tell my dumb mini version?
We are talking about 82 years old suspension bridge that links the American city of San Francisco California and Peninsula part to Marin Country.
The construction of the bridge started on January 5th, 1933 and ended on April 19th, 1937.
The Golden Gate opened for the public on May 27th, 1937.
Architectures and Engineers behind this mind-blowing work are Joseph Strauss, Charles Ellis, Leon Solomon Moussaieff, Irving Morrow.
The color of the bridge is International orange. It is so because of the surrounding elements and for the visibility through the fog.
The first proposal for this Bridge came in 1916 because before the only method of transportation between two cities are boat rides.
A lot of experts assume that it can't be done because of the tides and the depth of the water(372ft) also they implicit the construction won't be a success because of the strong wind. But anyhow the project was successful at the end all thanks to the engineers who put their heart and soul into this construction for decades.
This bridge has been declared as the 'wonders of the modern world' by the American Society of Civil Engineers.
The bridge also famous as the second most suicidal bridge there are signs and emergency phone booths on the pedestrian sideway to prevent that.
The bridge looks so beautiful during the 'golden hour 'which means the sunrise time.
How You Should Explore More?
There are six lanes in the bridge alongside with pedestrian sideway and a path for cycle riders. Cycling is a great way to explore the landscape and the viewpoints of the city from the Bridge. Walking takes a bit of time but if you have time you can do that as well.
And biking around the Golden bridge has become the most touristy thing to do in San Francisco.
There are many places around San Francisco that offer bike rentals around the Fisherman's Wharf area. You can pre-book online as well and get discounts or special promos. There is a site called 'San Francisco Bike Rentals'.
Most rental places offer you a bike, helmet, lock and a map a guide book of the city. Make sure to check your comfortability with your cycle because you will be spending a fair amount of time with it.
Bring plenty of water for your ride and start off early for a better day and also watch out for other cyclers as well.
More About Golden Gate Bridge
The typical route to explore the beautiful city is from Fisherman's Wharfs along with san Francisco's waterfront and by the bridge and down to sunny Sausalito.
You will be able to see beautiful scenarios and little streets, parks and if you are hungry there is a café called 'warming Hut' for you to relax a bit and start the Journey again, don't forget to take Insta-worthy pictures from the bridge.
When you cycled all the way to Sausalito take your time and enjoy the sunshine and have time with the House board Community but respect their privacy stay on the street piers. How you should go back to San Francisco? Well, after you've all done with the sightseeing and if you feel energetic you can ride back or you can go back by ferry.
If you want free walking tours around the bridge, San Francisco City guides offer twice a week's tour. (either Thursday or Sunday) for those who are interested. Schedule your walk on their website
For refreshments or for a small snack
Round House Café
Bridge café
Both of these cafes are open from 9.00 am to 6.00 pm.
If you didn't take a picture with the Golden Bridge, did you even go to San Francisco?
It is very well famous as the most photographed bridge in the world so why not? Add this to your bucket list and here are some amazing viewpoints for you to take that Instagram picture.
The classic postcard view is taken from the top of Marine Headlands.
Golden Gate Overlook can be reached by routing to the Langdon Court Parking Lot, a view of the bridge in between two giant trees
Marshall Beach also a nice viewpoint but it takes 20 mins Hike to reach there but totally worth it.
If you want to relax have wine and pizza and romantic eve then I suggest the viewpoint from Baker Beach.
The front point national historic site is for history geeks and architectural enthusiasm.
These are few from the many picturesque viewpoints you can go and check, there are so many if you dig deep and explore. The golden gate is san Francisco's most popular landmark and I summoned up here the important fact about the giant beauty metal and what you can do there.
Conclusion
You can visit the welcome center of the bridge to get more information and historical side of it and if you are also fascinated to hear about the history of this bridge then there will be and Onsite Exhibit where tour guides give orientation and more information and facts about this Golden Gate beauty.
Hope you liked these facts about the golden gate bridge.