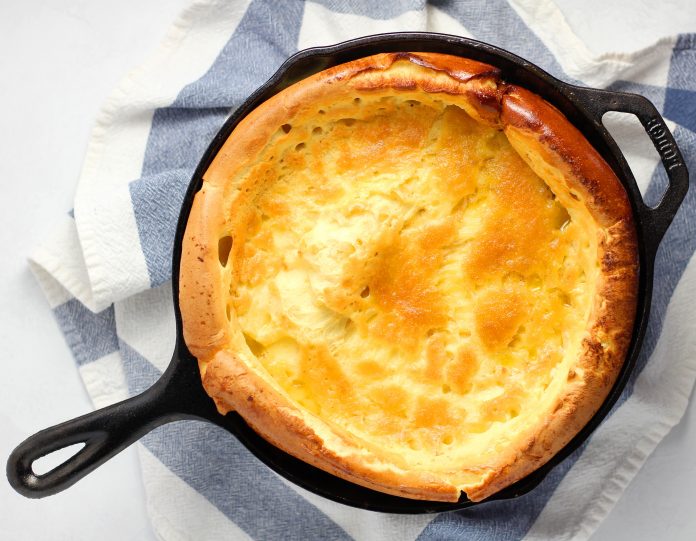 German pancakes are also known as a Dutch Baby Pancake which is a hybrid of a pancake, popover (similar to a Yorkshire pudding) and French crepe. Unlike a normal pancake that is fried on both sides on a frying pan, this is baked in an oven which gives it the light fluffy texture that is to die for.
It is much thicker and it doesn't have any baking powder like normal pancakes. It is usually made in a metal or cast-iron pan, or you can make it in a baking pan, for larger serving, basically any pan that you can use in an oven
When you look at the name you instantly think, this delicious dish came from somewhere in Europe like Germany or the Netherlands but in reality, it was first made in the United States of America.
It was introduced commercially to the world in a family-run restaurant in Seattle, Washington called Manca's Café and in 1942 they owned the trademark for Dutch babies. It got the name Dutch Baby because the Dutch pilgrims that came to America were the first people to make it.
These pancakes are usually served at breakfast but as time went by people started eating it as a dessert or for brunch and lunch. They top it with a bunch of different toppings like powdered sugar, maple syrup, jam or even butter with a side of bacon.
But it is commonly known to have pieces of apples infused into the pancake which is sold in a couple of diners like The Original Pancake House and Bickford's.
Dying to Know How to Make these Pancakes?
Let me tell you the recipe:
Ingredients
2 tablespoons of unsalted butter
2 large eggs
1 teaspoon of vanilla extract
½ cup of whole milk
½ cup of all-purpose flour
2 tablespoons of sugar (Granulated)
½ teaspoon of fine salt
Maple syrup, jam or any toppings you would like on the pancake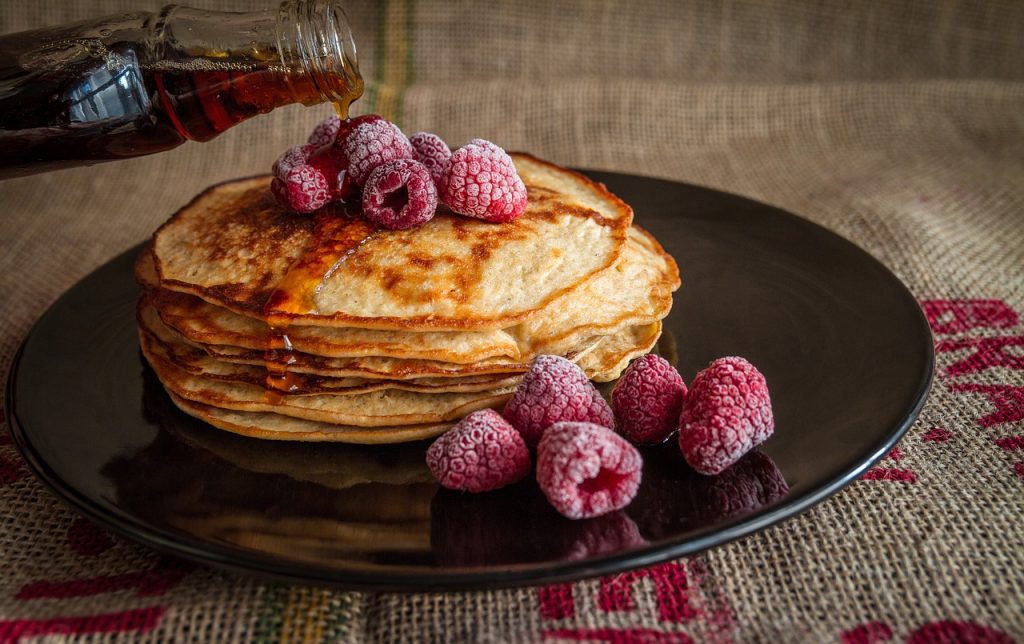 Preparation
Preheat the oven to heat at 450 degrees and put the skillet in the over for a couple of minutes.
Whisk the eggs, milk, vanilla with a whisker for a good 10 seconds
Blend the flour, sugar together and slowly add the liquid mixture.
Leave the batter to rest for 20 to 25 minutes to let the flour absorb the liquid.
Take the skillet out of the oven with mittens.
Add the butter to the pan and swirl it around so that it would melt and coat the bottom.
Pour the batter onto the skillet and tilt the pan so the batter will even spread all around.
Place the skillet into the oven
Bake the pancake for about 15 to 20 minutes until it is puffed up and lightly browned on the top and darker on the edges and sides.
Take it out of the over and put it on a serving plate.
Add the maple or any toppings you would like and cut into wedges and eat it.
The amount of people this specific recipe would serve is 2 to 4.
Final Words
There are many different ways you can make German pancakes. For example, you can add fruits directly into the batter or you can put fruits on the bottom of the skillet and the batter on top, but make sure you don't put the fruits if not they will not rise so magnificently which gives its specialty or you can add some lemon juice and powdered sugar onto of the baked pancake.
German Pancakes are very easy to make and tastes heavenly. If pancakes are one of your favourite things in the world. If you are a major foodie like me and want to experience it made by an expert then fly to the USA and check out the different diners that sell his scrumptious delicacies, like Tilikum Palace café in Seattle, Dusek's board and beer in Chicago, Nickel Diner in New York and many other places.