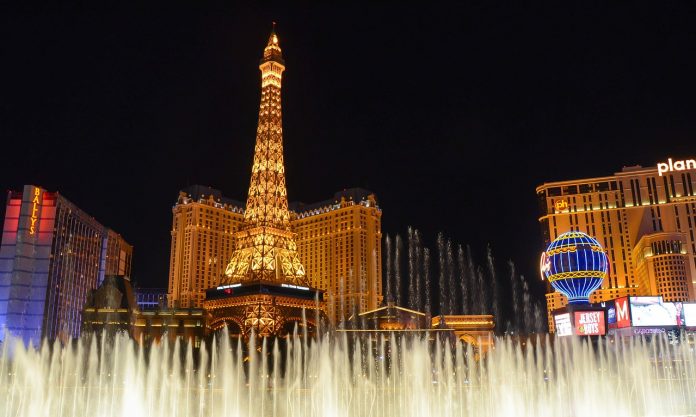 Paris Las Vegas, one of the most beautiful, romantic and fanciest properties that are located on The Strip in Las Vegas, USA. It is basically the mini-city of Paris and it even has an Eiffel Tower monument that has a sophisticated restaurant in it. Here in this article, we will discuss 7 famous Paris Hotel Las Vegas Restaurants 
The entire dining experience in Paris Las Vegas is exciting because it has a lot of different restaurants whether you are looking for fine and upscale dining or comfort food or even amazing crepes. At the end of the day if you are like me, a huge foodie, then any of these restaurants will leave you with a huge gleaming smile and massive food baby.
There are 14 different restaurants ranging from upscale to casual dining and there are also a couple of Cafes as well.
Let me tell you a little bit about each restaurant:
1. Eiffel Tower Restaurant
This is one of the most romantic fine dining restaurants in Las Vegas. The restaurant is 100 feet above The Strip and just one story below the observatory deck of the Eiffel Tower. The entire restaurant is a showcase of the beautiful surrounding and also the amazing water show.
Chef J. Joho is the main chef in this beautiful restaurant and the menu, which is carefully curated by the chef himself, is known to have amazing food with French gems like Foie gras torchon with prosciutto and fig.
Must try
The most famous dish is the soufflés.
Cost: $100 – $150 per person
Category: Fine dining
Cuisine: French
Dress code: Casual Elegant
2. Gordon Ramsey Steak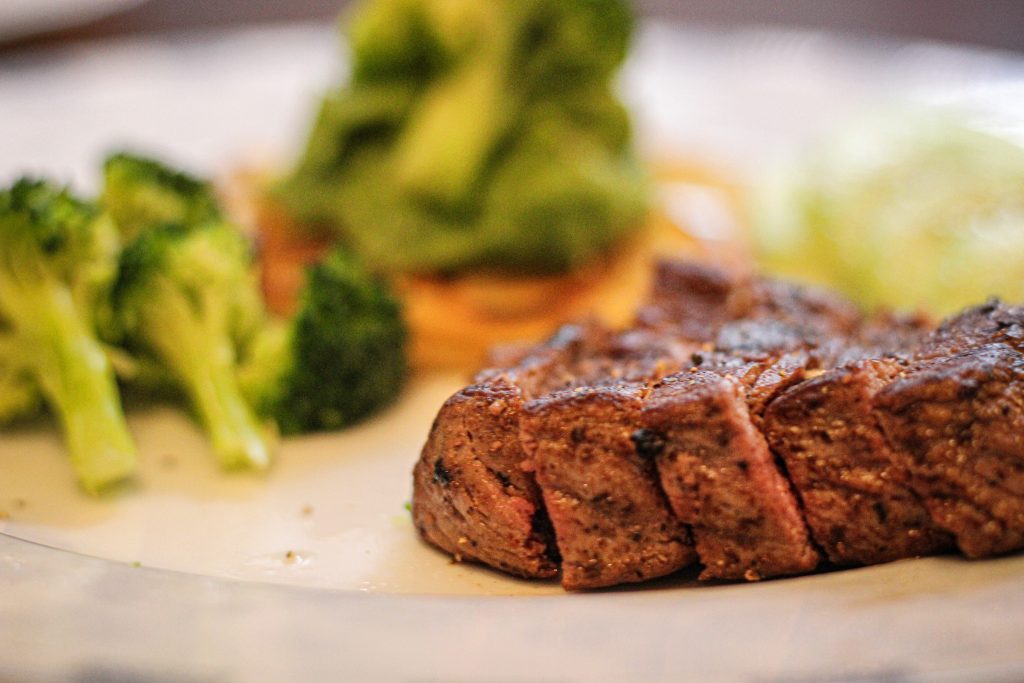 Opened in 2012 by the famous internationally renowned chef Gordon Ramsey where he showcases his delicious dishes in a fine dining ambiance. This restaurant includes a two-story dining area, bar, lounge and private dining rooms with a chef's table for those fancy eaters.
Famous dishes like Roasted Beef Wellingtons, Fine Blue Point Oysters which are few of the many dishes that are foodie's one day in heaven. Although it is operated by the brilliance of Chef Gordon Ramsey with his special recipes, the main chef when Gordon isn't there is Chef Sterling Buckley who makes dishes like the Alaskan King Crab Legs and Béarnaise sauce exactly like how the actual chef would.
Must try
The Roasted Beef Wellingtons
The legendary Sticky Toffee Pudding.
Cost: $200 – $300 per person
Category: Fine dining
Cuisine: Steakhouse/ American
Dress code: Business Casual
3. Martorano's
This restaurant is the epitome of home-style Italian cuisine owned by a south Philadelphia bred chef, Steve Martorano. Located along with the shopping and dining corridor in the property's Le Boulevard, it has a lounge, dining area and a bar that is designed just like the chef's first-ever restaurant in Florida.
The chef has infused his up-coast upbringing in his flavouring of the food he makes, where more authentic family recipes like the Linguine in White Clam Sauce and Bucatini Carbonara. The portions are relatively large portions of food and you can also have specialty cocktails that pair well with the food beautifully.
Must try
The homemade mozzarella
The world-famous Meatballs with gravy and ricotta cheese
Cost: $150 – $200 per person
Category: Fine dining
Cuisine: Italian
Dress code: Business Casual
4. Hexx Kitchen + Bar
This restaurant is one of the sought-after places in Las Vegas that your trip isn't complete if you didn't experience this amazing place. It has impressive patio dining with a spectacular view of The Strip and the famous Fountains of Bellagio. It is open from 6 am till midnight where you can enjoy elevated American dishes with fresh quality ingredients and some tasty specially made cocktails, a great collection of wine and beer.
Must try
Hexx eggs Benedict
The deliciously large 40-ounce bone-in short rib
The different type of creative, whimsical desserts
Cost: $150 – $200 per person
Category: Fine dining
Cuisine: American
Dress code: Casual
5. Burger Brasserie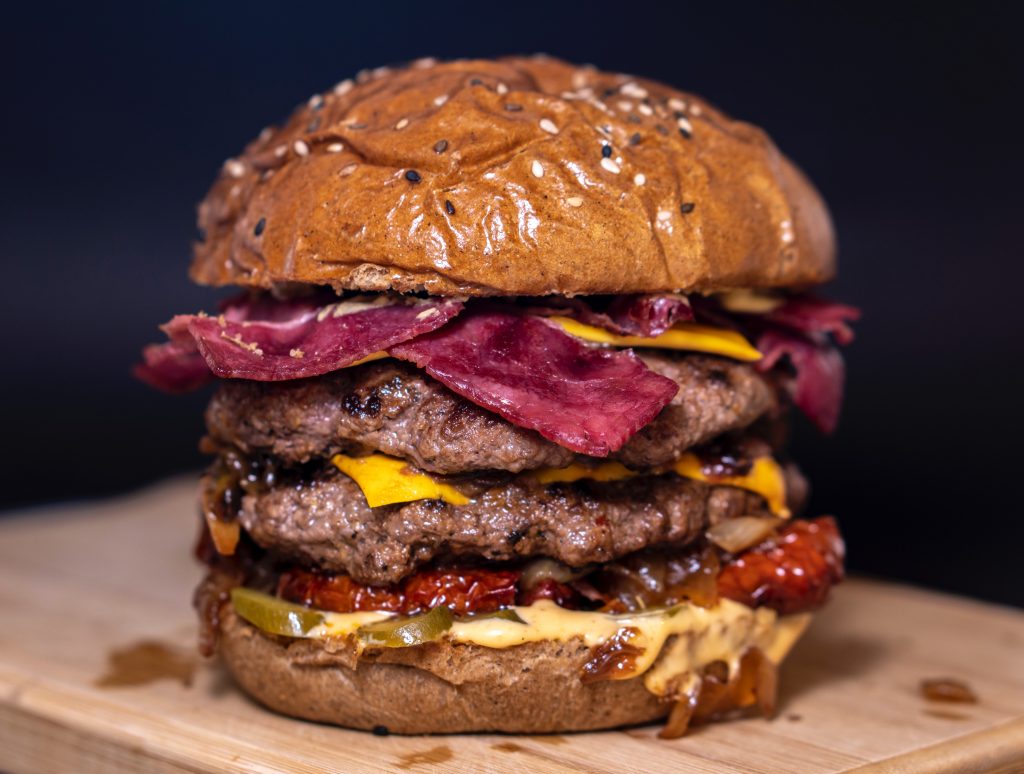 Fancy a burger but with French twist in a lively sports bar environment? Then this is the place you're looking for! They serve creative gourmet burgers with a selection of patties made out of beef, chicken, and lamb but they also have a veggie option for all the vegetarians out there.
This restaurant also has one of the most expensive burgers: the $777 Kobe beef and Maine lobster burger. It has a lot of other rich ingredients like seared fois gras, pancetta, arugula, goats' cheese and a special 100-year-old balsamic vinegar with a BLT salad, it is also served with a bottle of fine Rose Dom Perignon Champagne.
This restaurant is located on a walkway between Bally's Casino and the Paris Las Vegas and it a 15×15 gigantic television as well as 13 plasma screens that play matches of games that make it an elite sports restaurant and bar.
Must try
Obviously the crazy $777 Kobe and Maine lobster burger.
Their peanut butter and chocolate milkshake
The delicious saveur lamb burger
Cost: $25 – $50 per person
Category: Sports Bar
Cuisine: Hamburger/ American
Dress code: Casual
6. JJ's Boulangerie
A small busy café that has a vibe of a Paris bistro that is to be found along the Rue de la Paix shopping walkway. It is a breakfast and lunch place that has an assortment of delicious bakery items that you can in their cases.
If you want to stop for a quick breakfast or lunch then this is the place, you can get sandwiches like BLT or roast beef and you have quite a selection of salads, soups, pastries, and fabulous dessert so that you can satisfy that sweet tooth. 
Must try
They have gelato of different flavours.
You should try the Prosciutto sandwich and watch the bread being made.
Chocolate croissants
Cost: $5 – $10 per person
Category: Café
Cuisine: Café food/ French
Dress code: Casual
7. La Creperie
Crepes are a famous French delicacy and many people around the world eat with a different type of toppings. This little place is inspired by the walk-up sidewalk creperies in France and is located on the walkway between The Bally casino's entrance and the Paris casino floor.
There are tons of different toppings and fillings offered by La Creperie, either it is so satisfying your sweet tooth or your savory cravings. They make it right in front of you from fresh ingredients like fresh fruit and Chantilly cream to cheese and ham.
Must Try
Sweet: Banana, Caramel sauce and Nutella crepes
Savory: The triple cheese crepe with boursin, gruyere, and triple cream brie
Cost: $5 – $10 per person
Category: Café
Cuisine: French
Dress code: Casual
These fine restaurants and cafes are a must-visit when you come to Las Vegas, especially to the Paris Las Vegas Hotel. One of my favourites has to be the Eiffel tower one because of the amazing French food and spectacular views. So next time you go to Las Vegas make sure you enrich yourself in these different types of cuisines and amazing food. I hope these 7 Paris Hotel Las Vegas Restaurants were helpful for you and you will consider visiting them.