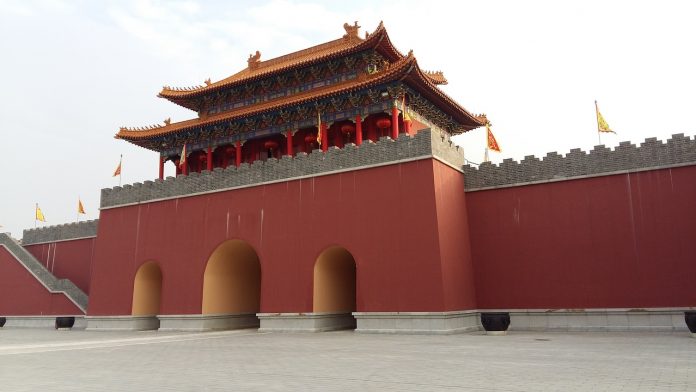 What does Tiananmen Square Mean?
Tiananmen is also referred to as "Tian'anmen" and it gives a meaning of "Gate of Heavenly Peace", it is a historical monument in Central Beijing.
Do you like to know about the history of Tiananmen Square? If yes, you can see more about Tiananmen Square…
Tiananmen Square is one of the national symbols in China. It is located in Beijing. This is the largest square in the world, it's area is approximately 109 acres. It contains Monuments of the People's Heroes such as "Great Hall of the People, National Museum and Mausoleum of Mao Zedong and specifically. It is known to people as the "Tiananmen Square Massacre".
Historical Background of Tiananmen Square
Tiananmen Square originally built in 1420 during the Ming dynasty and named "Chengtianmen", later on it rebuilt and named "Tiananmen Square" in the year 1651. Tiananmen Square is known for its many revolutionary protests, one of that is from 10th October 1911 to 12th February 1912 The Xinhai Revolution.
This revolution declined the last imperial dynasty (Qing Dynasty) and established the Republic of China after the preparation time of World War II. China fell under Japanese ruling and during this period millions of Chinese were killed but at the end of World War II in 1949. The communist party controlled and caught many parts of China and established the People's Republic of China under the leadership of Mao Zedong.
But apart from all the above historical background "Tiananmen Square" is well known for "Tiananmen Square Massacre". It was a revolutionary protest of 1989 and is organized by a group of students.
This protest started on 15th April and by forcibly concluded on 4th June 1989 by government-enforced martial law and military occupied central Beijing. The goal for "Massacre" was to "stop corruption within the Communist Party, public speech freedom, press freedom, etc." The "Tiananmen Square Massacre" ended by killing 1000s of protesters, civilians, and soldiers with many restrictions.
Is Tiananmen Square the Best Tourist Attraction?
Yes, it is known as the best tourist attraction in Beijing. It is located at a convenient place in Beijing with many other nearby attractions, people within China and all over the world are visiting Tiananmen Square to know its history. Nearly 14 million people visit Tiananmen Square yearly. So there are things to see and explore in "Tiananmen Square"
Things to do in Tiananmen Square
National Museum of China
"Museum of the Chinese Revolution"
National Museum is located east side of the Square and its objective is to educate people about China's art and history. This is one of the largest museums in the world, more than 8.6 million people are visiting this museum, so this is the second most visited museum in the world.
The Great Hall of the People
Great Hall is located at the western edge of the Square. This hall used for the government's ceremonial and legislative activities and also used for national meetings, anniversary celebrations, memorial services, etc.
Monuments of People's Heroes
Monument of People's Heroes is a ten-story tower-shaped monument. It is located in the southern part of the Square. This reveals the revolutionary struggles during the 19th and 20th centuries in China.
Zhengyangmen
Zhengyangmen is a gate located in south Square, this was built to guard the direct entry into the imperial city.
Apart from the above you can see and explore many more things within the "Tiananmen Square", this is one of the ancient historical icons in China. If you visit Beijing never miss to explore Tiananmen Square.
How do I travel to Tiananmen Square?
It is convenient and Tiananmen Square is located right opposite to Forbidden City, can buy tickets at the entrance. So, you can plan your tour with nearby attractions too.
Also, you can visit the Forbidden City, Beijing
"Forbidden City" is a former imperial palace located in Beijing. It was built during the Ming Dynasty to the Qing Dynasty ruling period. There are 9,999 ½ rooms in it and is also known as the "Palace Museum". this is one of the historical monuments in Beijing, nearly 19 million people are visiting "The Forbidden City" yearly.
Also, you can visit the Temple of Heaven
Temple of Heaven is situated in the southeastern part of central Beijing. This temple was constructed during the years 1406 to 1420. It was built in the 18th year during the Ming Dynasty, it was the temple which was visited by Emperors of Ming and Qing dynasties for annual ceremony prayers.
Summer Palace
Imperial Garden in Beijing
Summer Palace was an imperial garden during the Qing Dynasty ruling period. It has lakes, gardens, arch bridges and palaces. It is mostly covered by Longevity Hill and Kunming Lake.
Shopping Markets
You should never miss shopping in Beijing. There are many wholesale markets and shopping malls in the town such as "Hongqiao Market, DongdIng Clothing Wholesale Market, Kuntai Shopping Mall, Chaoyang Joy City a Silk Market". You found many places. So don't forget to shop.
Street Foods
Beijing is known for its street foods, so there are many streets such as "Ghost Street, Niujie Muslim Snack Street, Nanluoguxiang, Fucheng Street and many more places. So never miss tasting Chinese Cuisine.
We have seen many things about Tiananmen Square. Beijing and also there are many things to do near Tiananmen Square. So, when you plan your tour to Beijing, never forget to add all the other attractions in the itinerary.
Hope definitely this tour will take you to a historical "Tiananmen Square", don't wait, join your friends and families, plan your next tour to Beijing, unlimited things to explore in Beijing.
In the above article, we explored many things about "Tiananmen Square", hope this article is more helpful for" History Lovers"
"You should never miss adding "Tiananmen Square" to our Travel Itinerary