Do you think that French fries are really from France? No… Actually it's not. During the Second World War, the French-speaking Belgium Army introduced this food to the American soldiers. The nickname they have given to French fries still gives credit to the wrong country. We can't rewrite the history but in Simpletarian.com, we want to introduce you to the real French cuisine dishes which are filled with happiness and flavour. French food represents the French culture as it was added to UNESCO's world list of intangible cultural heritage in 2010

There's a huge traditional influence with French cuisine. The typical French meal includes three courses- a simple starter, main dish, and a dessert. You get to experience a variety of French cheese and wine with these meals as its kind of traditional to include a platter of cheese and wine after the main course and before the desert.
The dishes come with regional variations, modern adaptations and a great deal of history included with these diverse simple to Complex dishes with a traditional touch. French cuisine involves building up layers of flavours with quality ingredients. The dishes might sound fancy but the intention is really about sitting down and enjoying the company and the delicious bites in style with the flow. Here are some excellent choices of dishes, which we tried to represent each course of a French meal. We guarantee that even one of these dishes will enchant your taste bud.
Bon Appetit…!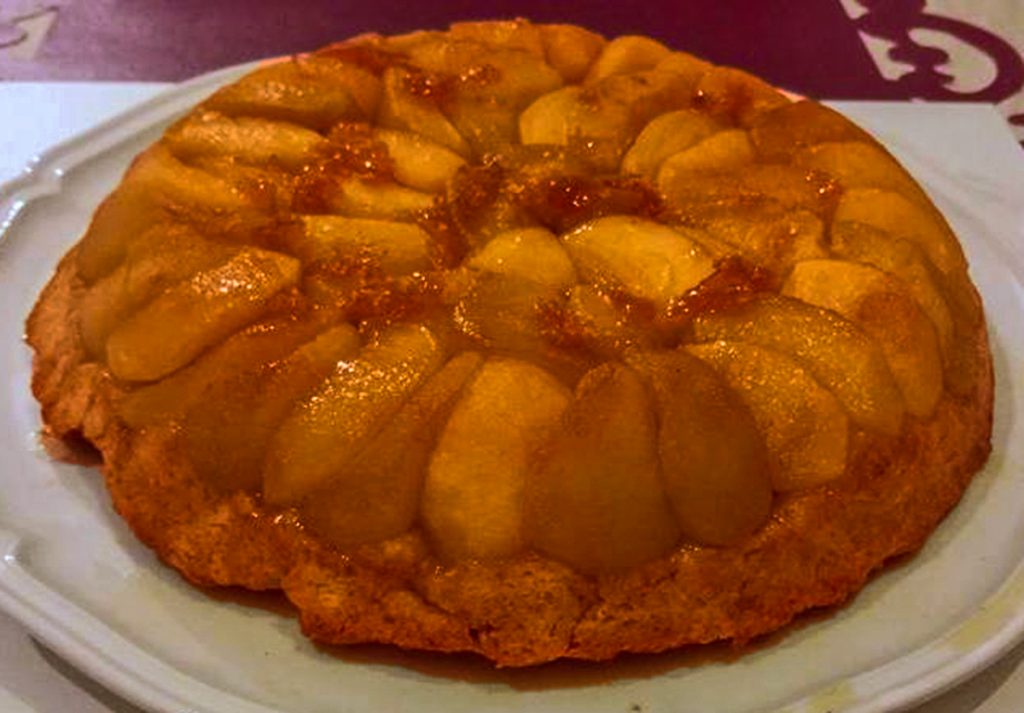 1. Soupe à l'oignon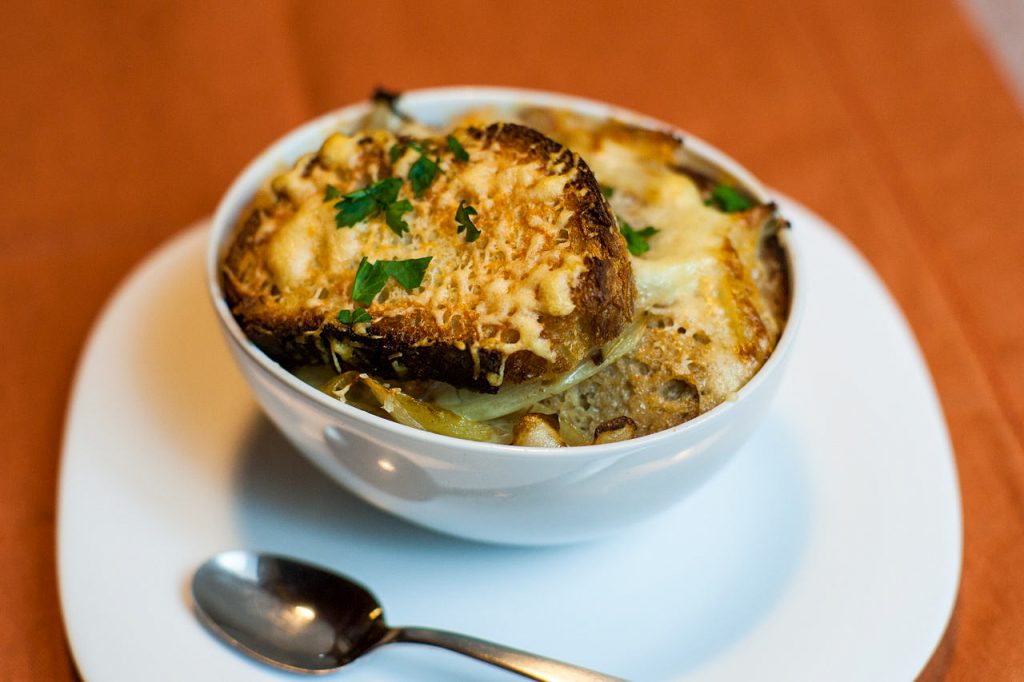 This is a traditional soup in French cuisine, made with Caramelized onions and using a meat stock, then slow-cooked. Typically the meat stock is made with beef stock but it can be altered with adding milk, water or thickening it using eggs or flour. The flavour is enhanced by adding brandy or sherry to the soup and the caramelized Onions take it to another level. Typically French use melted cheese on top and croutons along with this dish.

2. Bouillabaisse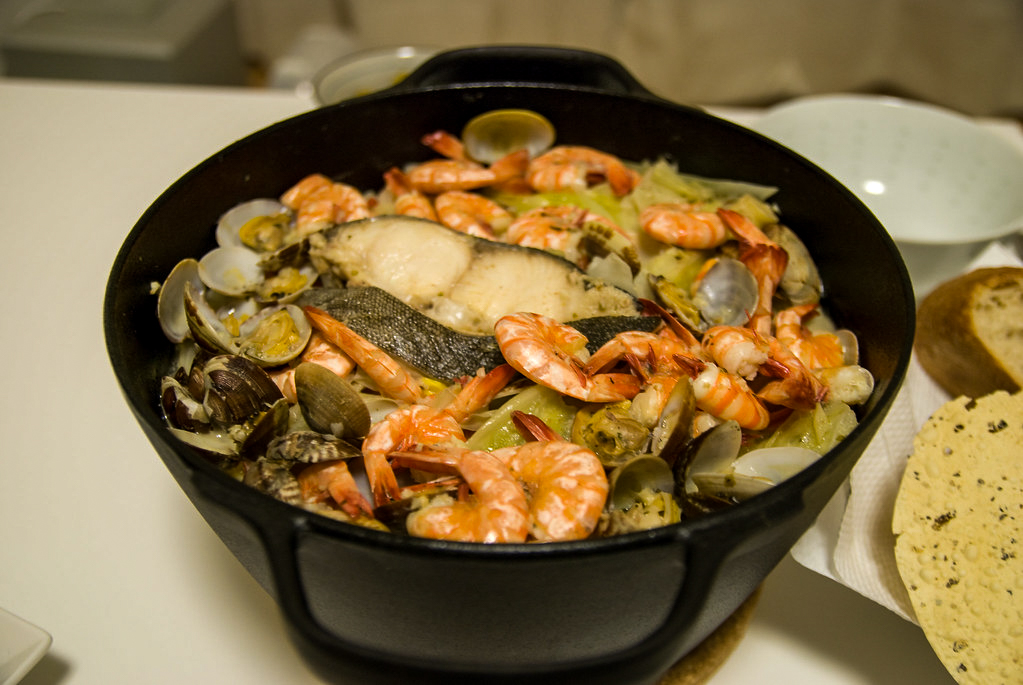 This is basically a stew, using fish or a range of shellfish as the main ingredient. The dish got the name as Bouillabaisse because of the Provençal Occitan word "bolhabaissa". Even this classic dish is appreciated by many seafood lovers all over the world, originally it was introduced by the city of Marseille, France.
3. Tuna Niçoise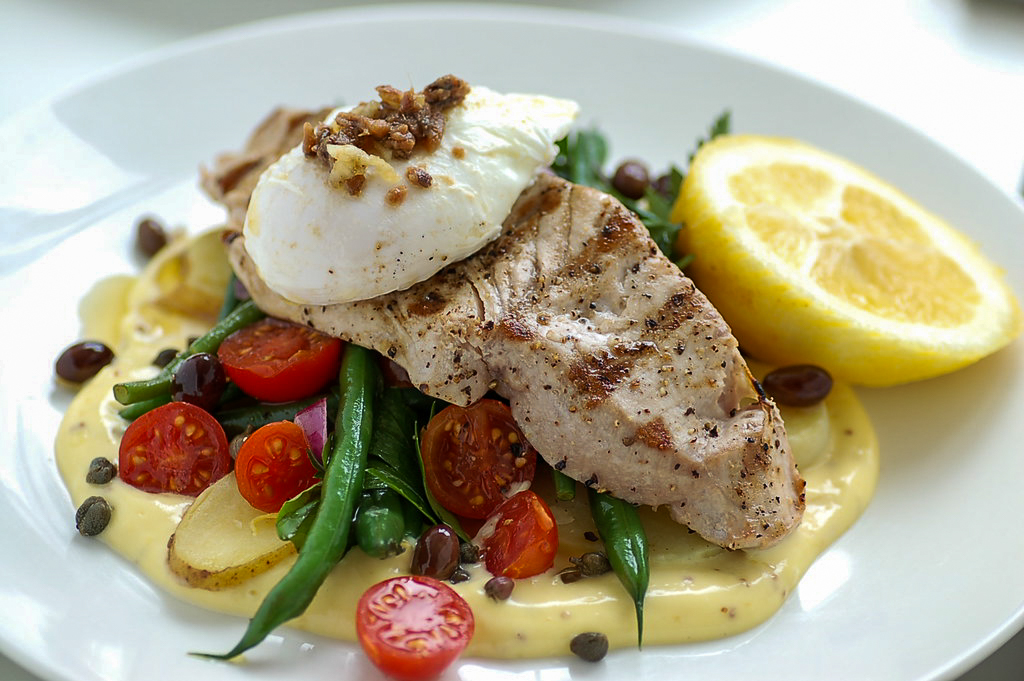 This is used as an entrée salad originated in Nice, France. The classic version of this dish is made only with tuna, boiled potatoes and green beans, fresh and raw vegetables but it can be altered and with the chef's creativity. It is topped with lemon mustard vinaigrette to enhance the tangy flavour.
4. Cassoulet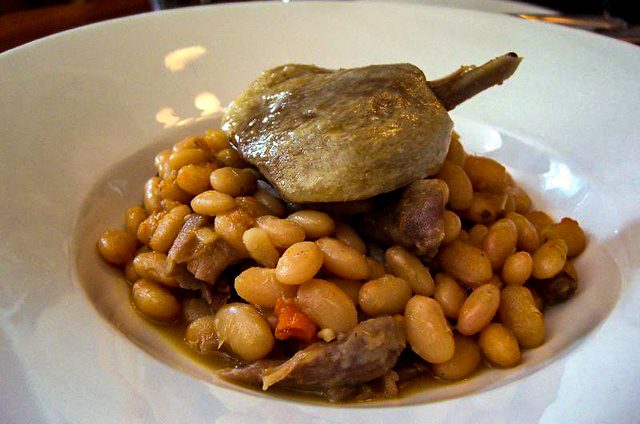 This is a rich meal, perfect for cold seasons, originated from southern France. It is traditionally baked in a casserole dish so the name of the dish came representing the pot. This comfort dish is made with white beans and stewed slowly with meat. usually, duck or pork is used as the meat component but goose, mutton or even sausages can be added in it.

5. Flamiche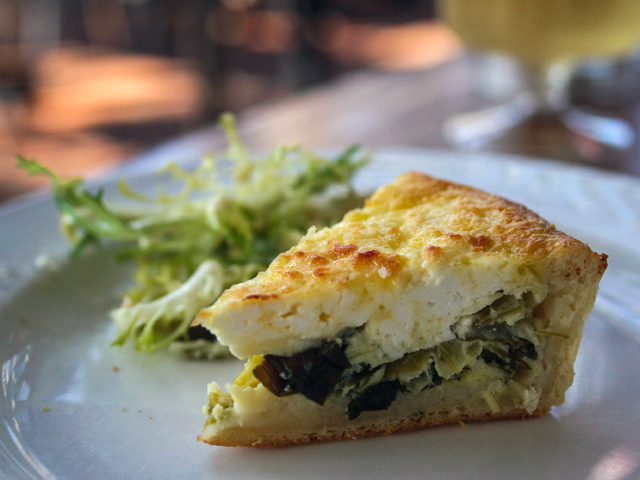 The word "Flamiche" represents the meaning of "cake" in Flemish. This delicacy is made as a puff –pastry crust, filled with creamy cheeses and vegetables then resembled as a French tart. Traditionally, northern France region uses leeks and cream as the filling while the Southern French region make a pizza like Flamiche which is topped with olives, onions, and anchovies
6. Pissaladière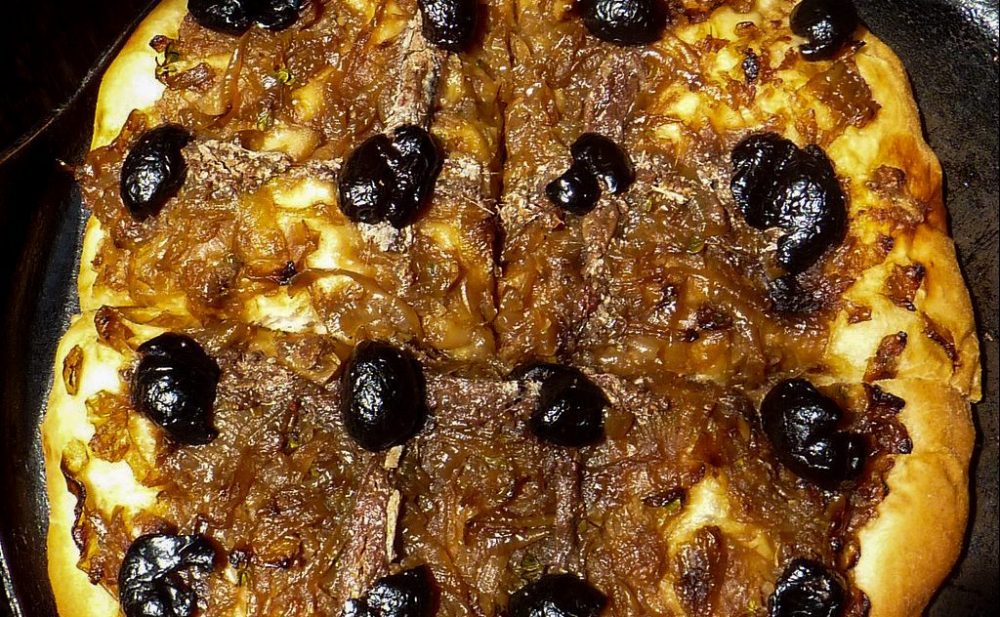 Pissaladie`re is a savoury, onion tart. Traditionally it is layered with olives, anchovies, and herbs and served as an appetizer.
7. Confit de canard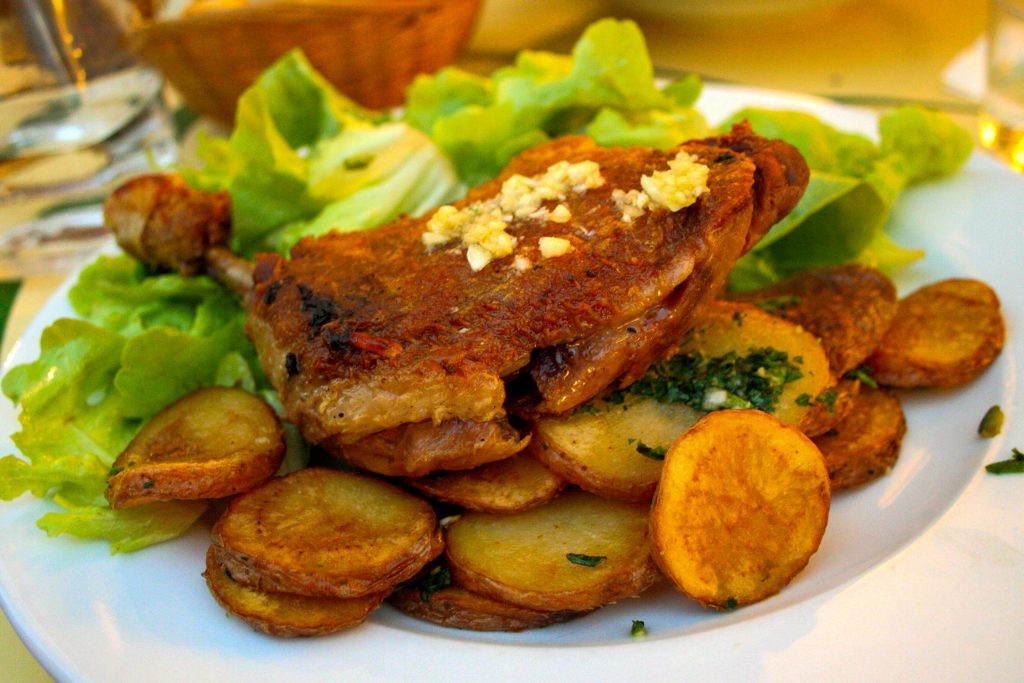 This one of the finest French dishes made with duck as the main ingredient originated in the Gascony region, France. The duck meat is prepared in a special way; at first, it is marinated it in salt garlic and thyme mixture, nearly 36 hours and secondly slow-cooked while letting the meat get fried in its own fat. Typically this dish is served with roasted potatoes and garlic on the side.

8. Coq au vin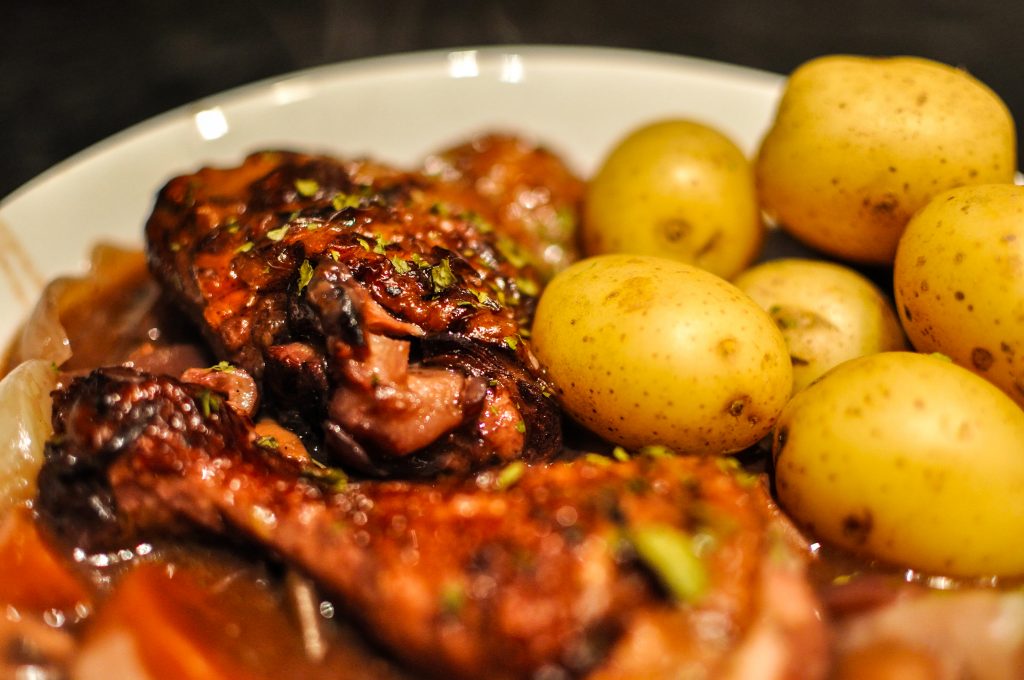 This is a dish made with chicken as the main ingredient. The meat is braised with garlic, onions, mushrooms, bacon and wine. The wine they use differs from region to region with their popular local wines but typically red burgundy is used in the recipe.

9. Boeuf bourguignon
This dish is made with red wine -braised beef as the main ingredient, then stewed in beef broth and seasoned with garlic, mushrooms, onions and fresh herbs. Boeuf bourguignon is originated from eastern France. Traditionally it takes nearly two days to slowly simmer the beef in wine so that the meat gets tenderized and enhanced the flavours well.
10. Ratatouille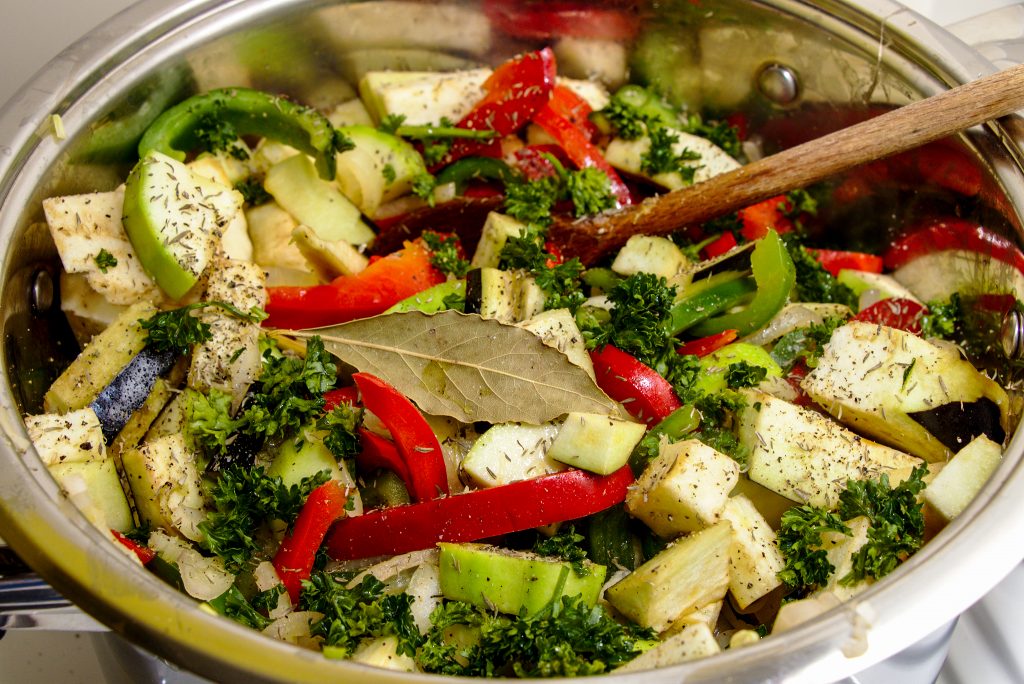 This is a stewed vegetable recipe that can be arranged as a side dish. First, the vegetables are cooked using a small amount of fat and baked in an oven assembled in a dish. Eggplant, carrots zucchini, tomatoes can be added as veggies and various herbs can be used coz it's all up to the chef's creativity.

11. Escargots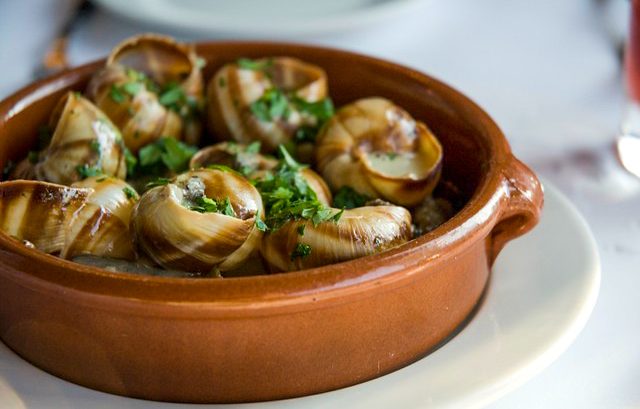 Escargots is a delicacy consisting of cooked edible land snails with butter, garlic, and parsley. French serve this as a starter or an appetizer but if it grosses you out probably it's better to stay away from this dish.

12. Tartiflette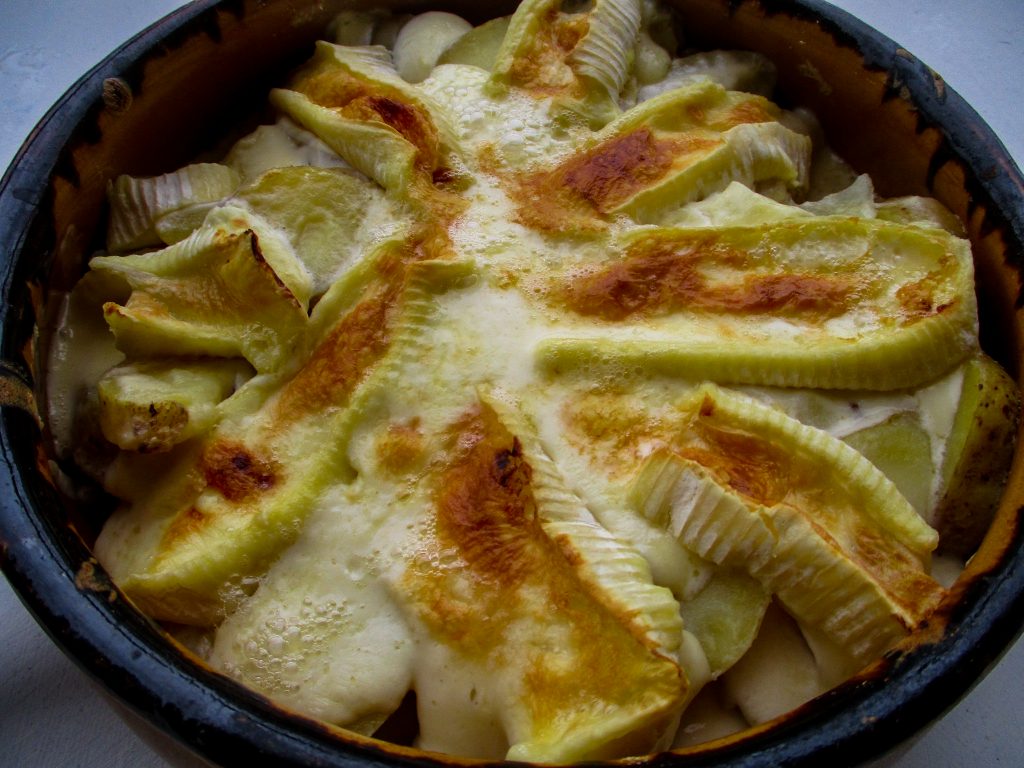 This dish is made with French bacon, onions, potatoes, reblochon cheese, and lardons then baked in the oven. This dish is originated from Alps, France. The main ingredient of this dish is potatoes and Arpitan word for potato is tartiflâ so we guess that the name "tartiflette" may be derived from it.
13. Chocolate soufflé
This famous delicacy is another version of the famous dessert "soufflé which gives the meaning of blow out in French. Soufflé is eaten savoury or sweet, this specific kind of Soufflé is found with a chocolate crust with oozing creamy chocolate in the middle.
14. Tarte Tatin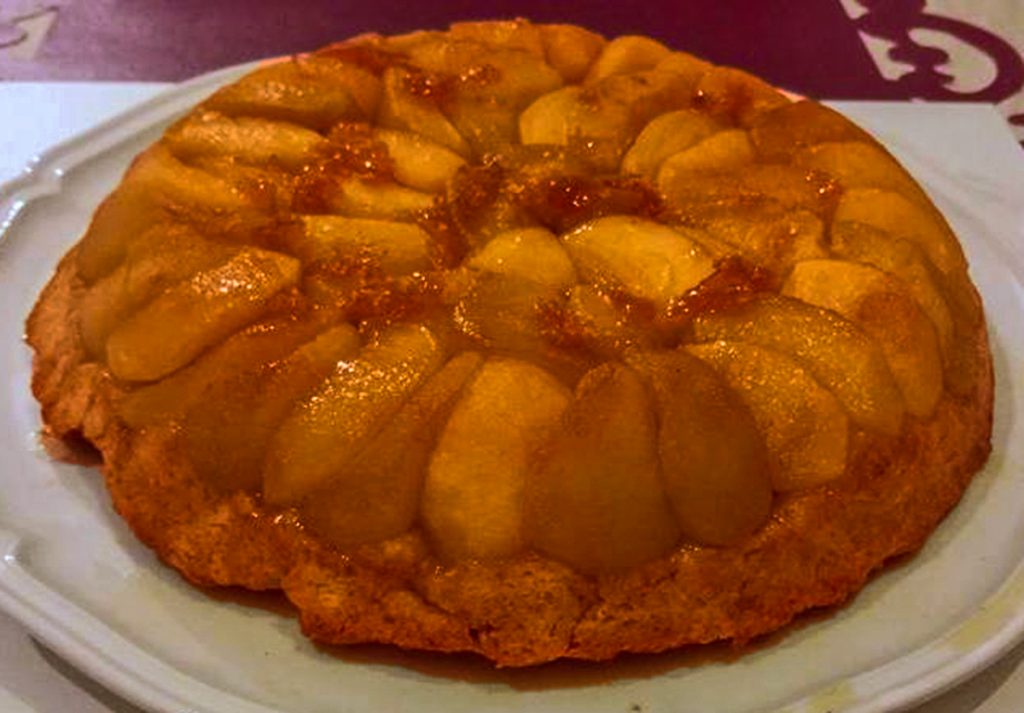 This is a signature dish of hotel Tatin, France. This upside-down tart is assembled with baked apple slices coated with sugar and butter.
Is it me or are you also feel hungry after reading about these mouthwatering French Cuisine dishes? Yeah, how could you not be? Pick a date sooner and have a wonderful dinner outing at a local restaurant that serves French food…If you're daring! cross the line and plan a trip to enjoy authentic French dishes at the heart of France, the city of lovers Paris. Just imagine how romantic would that be…!