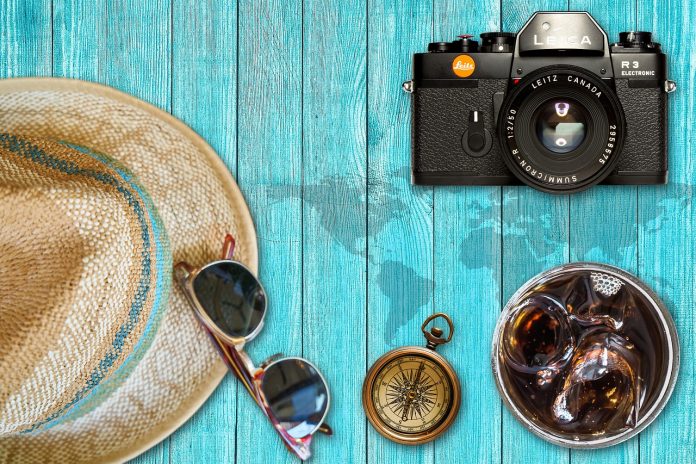 "Better see something once, than to hear about it a thousand times".
-Asian Proverb-
We have an "innate calling" for exploration, embedded deep within us. This calling has taken us beyond islands and continents which we have felt "trapped" within, even during the times that it was believed that the world was "flat as a pancake"! Americas have been already discovered by Christopher Columbus in 1492, Australia by Willem Janszoon in 1606, India by Vasco da Gama in 1497. But have you discovered Grand Canyon yet? In this article, we will explore Top 10 travel destinations of 2020.
Have you seen the great Australian Outback yet? Have you walked through the busy streets of Mumbai yet? If not, for you, they have not been discovered yet. They are not discovered until they are explored. They are not sought until you have listened to your "innate calling" to seek, explore and discover your own experiences!
Globalization and Advanced Technology
Globalization and advanced technology have brought everything to our fingertips. With a few keystrokes on Google, you can get to know where the capital city of Denmark is. But you would not have experienced Copenhagen until you have had a hot morning cappuccino, sitting in a costly corner at "Sonny"! You can search "YouTube" for the top 10 places to visit in Sri Lanka, but you would not have experienced this beautiful island until you have trekked through the scenic hills in "Ella"!
You can read a 500-page travel guide to Africa. But you would not have experienced Africa until you have seen the sun setting behind the great Kilimanjaro! It's a beautiful world out there. And you must go out seeking new experiences, which cannot be obtained by the most illustrious books, most detailed websites or the highest quality videos. The only way is to experience them, is by yourself. Because even though a picture is worth a thousand words, an experience is worth a thousand pictures!
Today we'll look at the Top 10 travel destinations of 2020, which would make you rich… Rich with the most memorable experiences, which would last a lifetime!
1. Lake District, Chile
Filled with lush greenery, beautiful scenic mountains and of course, blessed with stunning lakes, Chile's lake district is the first of the Top 10 travel destinations of 2020 and can be identified as one of the best travel locations in the world! The clear lakes and the clear skies back-dropped by snow-capped beautiful mountains boast of such beauty, which you never have encountered anywhere else in your life!
Whether you're looking for a vacation with peace and relaxation or an adrenaline-rushing adventure, Lake District has got you covered. Top five things to do in Lake District include:
Hiking in National Parks
While the lake district has a few national parks, Puyehue and Conguillío are the most popular. They are filled with rich greenery, beautiful springs, lakes, and even waterfalls. Wouldn't you just love to take a hike in these areas?
Cycling Around the Lakes
While this area has got about 12 beautiful lakes, lake Llanquihue is known as the most beautiful, which is surrounded by picturesque scenery and tiny towns. Cycling around this lake in the morning or evening can be quite relaxing.
Climb Volcanoes
Have you ever climbed a volcano? Or yet even seen one? If you go to the Lake District, you'll be in luck, because this area has got two! Villarrica and Osorno are beautiful snow-topped volcanoes. While climbing these volcanoes might not be for everyone, the magnificent view from the summit would definitely compensate for all the hard work.
Skiing Down Volcanoes
What beats climbing up a volcano? Skiing down a volcano, of course! There are ski fields located on both volcanoes which are low on difficulty, but high in fun!
Kayaking
The waters in this area are very calm, hence you don't have to be an expert to kayak here. It might be quite a relaxing adventure to kayak between beautiful rivers and fjords.
2. Big Island, Hawaii
Also known as "Hawaii Island", it's the largest island of Hawaiian archipelago (group of islands). Rich with greenery, mountains, waterfalls and surrounded by blue waters, it's an adventurer's paradise. In the Big Island, you'll never run out of things to see or do. Top five activities in Big Island include:
Kona Water Activities
Kona waters are known for its warm, clear and blue nature, which would take your breath away! It's a swimmer's and snorkeler's paradise!
Enjoy Kona Coffee
If you go to Kona to swim, you cannot come back without having some world-renown Kona coffee! Kona district's unique soil and growing conditions have given its signature flavor. If you're a "coffeeholic", you will not regret having the celebrated Kona coffee, from sitting in a Kona café, in Kona!
Biking and ATV Rides
Biking is the best way to explore the Big Island at your own pace. You can easily rent a bike and head wherever your heart leads, and of course, where the roads do so too. If roads aren't smooth, or if you want to have some fun, there are plenty of places in which you can rent an ATV, such as the Kohala coast.
Helicopter Tours
If you can afford it, it's a "must in Hawaii". There are many beautiful hidden places in Hawaii that can only be spotted from the sky. Think about hidden waterfalls; fresh lava lakes and volcano crates; think about all the awe-inspiring wonders which you can see from above!
Exploring Lava Tubes
The lava tube is a natural channel created and hardened by lava flows, which are situated underneath the surface of the ground. In Big Island, you can visit quite a few of these, which would become quite a memorable experience!
3. Galway, Ireland
Filled with beauty and rich Irish traditionalism, cafes with local delicacies, pubs with authentic Irish beer, and gleaming nightlife, Galway brings the true Irish experience to you. It's the reason why it's called "The cultural heart of Ireland". Here are the top five places to visit in Galway:
Visiting the Galway Cathedral
The "Cathedral of Our Lady Assumed into Heaven" is one of the largest and most impressive buildings in the city. The 60-foot structure with a green dome was built in the 1960s and attracts a lot of tourists.
Shopping at Shop Street
Shop Street is one of Ireland's most beautiful and colorful streets, filled with arty stores, street-paintings, pubs, street-performers and a lot more. If you want to buy an authentic traditional Irish souvenir, this could be the place.
Wreck of MV Plassy
Mv Plassy is a 164 feet long cargo vessel that had operated in the 1950s. It has got caught up with severe storms in 1960 and had washed ashore. Today you can see the rusty wreck lying on the shoreline, attracting a lot of tourists and photographers.
Visit the Kylemore Abbey
This beautiful Abbey built in the 1920s boasts of Victorian gothic in its true magnificence. The Kylemore Abbey, the surrounding garden and the beautiful lake is known to look astounding during the summertime.
Take the River Cruises
The Corrib river, popular with locals for white-water kayaking, is also popular for the river cruises among tourists. While the daytime cruises let you explore Galway, with its castles, wildlife, and natural beauty, the night-time cruises with DJs and open bars are guaranteed to give you a whole different experience.
4. Dead Sea, Israel
The Dead Sea, which is the lowest point on the surface of the earth. It is actually a salt lake, and also, it is one of the saltiest bodies of the world! It is the best among the Top 10 travel destinations of 2020.
The Dead Sea and its neighboring area, which is always full of tourists, have a lot of tourist attractions which you might be interested in visiting. Here are the top five things to do and places to visit:
Float Away
We cannot talk of Dead Sea without talking about taking a dip in it and floating freely! That's what the Dead Sea is famous for and that's why most tourists are attracted here as well. You just have to close your eyes and drop into the water. You'll feel pushed upward and you can just relax while floating. It's the ultimate relaxation!
Mud Bath
At Ein Gedi, you can have a therapeutic mud bath. Popularly known (yet scientifically unproven) as a miracle cure for skin diseases such as acne and eczema, tourists gather to this area to have a relaxing bath in mud.
Ein Gedi Nature Reserve
Ein Gedi is also known for the beautiful oasis and nature reserve, which is called "The spring of the kid (as in the baby goat)". It's also one of the most beautiful natural spots in the country as well. There are several trails which you can choose to follow, each passing through different scenic places.
Masada National Park
The plateau of Masada is both a national park and a historical site. The plateau, which is 60 meters above sea level, can be easily visited with a scenic cable car tour or on foot if you love adventure. The breath-taking view into the horizon from the top is something that you would cherish forever.
Lot's Wife
There's a horizontal salt-rich rock formation, in the sanctuary of Agios Lot, overlooking the dead sea. This is popularly known as "Lot's Wife", due to the biblical story of Lot's wife turning into a pillar of salt, as a punishment for looking back at burning Sodom.
5. Estonia
Estonia is another option to visit the Top 10 travel destinations of 2020. It is an unpopular hidden European gem, where you can get a lot of new experiences. Filled with untouched natural locations, fresh organic food, historical locations, rich culture, adventurous tourist attractions, and readily-available Wi-Fi hotspots, Estonia guarantees to give you a unique European experience which you cannot get from anywhere else. Let's look at some unusual attractions in Estonia.
Meteorite Crater Field
The city of Kaali is popular for a meteorite crater field, which was created about 7,500 years ago! The nine craters range from 12 meters across to 110 meters across! While this place is geologically interesting, it's also believed to be the home to an unknown ancient cult as well! It's a beautiful sight to see, right in the middle of the jungle.
Museum of Soviet Vehicles
Seemingly a typical vehicle junkyard for the average person, this is a paradise for classic car lovers! The museum contains hundreds of cars, buses, bikes, trucks, and trams from the soviet era, in their original unrestored state. This rustic museum would surely take you back in time!
Tuhala Witch's Well
This natural geyser has nothing to do with witchcraft and is the work of an underground river. While it doesn't overflow all the time, it only does so, during heavy rains. And when it does, it's known to flood the surrounding area as well! The wooden cap placed over the natural well looks as if it's trying to keep evil caged underneath!
Kiipsaare Lighthouse
It's Estonia's own leaning tower. Built-in 1933, this 80-foot tall lighthouse is situated on the coast of island Saaremaa. The strong currents have given its iconic 15-degree dangerous tilt, which gives it the appearance that it's about to topple over! Until fate decides its future, it remains as a unique tourist attraction.
World's Largest Hoberman Sphere
Hoberman sphere was invented by US artist/ engineer/ architect- Chuck Hoberman, in 1992. Its unique design allows this geodesic dome-shaped structure to be folded down itself to a fraction of its original size! You have probably seen miniature versions of this, which is reimagined as a children's toy. The structure hanging in AHHAA Science Centre's ceiling is no toy, as it weighs 340 kilograms and can be expanded from 1.5 meters to 5.9 meters in diameter, in about 3 seconds!
6. Addis Ababa, Ethiopia
You might be surprised to see Ethiopia in this list, due to stereotypical views that seem to do injustice to this beautiful country. Addis Ababa, the capital city of the country, can be identified as one of the most beautiful and diverse cities, rich with architecture, culture, history, and places to visit. If you like to witness a developing African country in its unspoiled authenticity, this is a great place to visit. Some of the highlights of the city are:
Open Air Market
Addis Ababa's got the biggest open-air market in Africa! Mercato is a great place to see diverse Ethiopian cultures since people from 90 different tribes come here to bargain for a good deal.
Medhane Alem Cathedral
This Ethiopian Orthodox Christian church is the biggest in East Africa! The name means "Saviour of the World". The enormous beautiful structure boasts of skillful Ethiopian architecture and remains as a must-visit place in Addis Ababa.
Shiro Meda Local Market
Located near the US Embassy of Ethiopia, this local market sells a large collection of traditional clothing, accessories, and souvenirs. If you're looking for an authentic Ethiopian souvenir to bring back home with you, this is the ideal market for you. If you know how to bargain, you definitely can strike a good deal.
Hiking at Mount Entoto
The lush green mount Entoto is 3,200 meters above the sea level and the hike through the eucalyptus forest can be a fresh experience for you. When you reach the top, the panoramic view of Addis Ababa can be a treat to your eyes.
National Museum of Ethiopia
The museum contains local archaeological finds, cultural elements, local artwork and fossilized treasures. The most prominent display of the museum is "Lucy", the partial skeleton of the Australopithecus afarensis, which is identified as 3.2 million years old!
7. Botswana
Nicknamed as the "Gem of Africa", Botswana is all about wildlife, nature, and adventure. There are so many places to visit and engage in and let's look at top five of them. This is another good option among the Top 10 travel destinations of 2020.
Okavango Delta
It's one of the best places in Africa to witness wildlife in natural habitat. This unspoiled wilderness extends from extremely dry grasslands to wet swamps. The animals which roam about in the Okavango include elephants, giraffes, cheetahs, zebras, rhinos and crocodiles.
Gabane
If you love hiking, Gabane is an awesome small village to visit. This small village has got a lot of small-scale manufacturers of glass, metal, and pottery. While the enjoyment here lies in the adventurous hike which leads there, you can still buy a souvenir to remember your trip.
Kasane
Kasane is situated in the corner, between Botswana, Zimbabwe, Zambia, and Nambia. This is a popular lodging place in Botswana, near the eastern boundary of Chobe National Park and if you're planning to visit the park, it's a great place to stay. Also, if you are into snakes, (shivers!) there's a snake park in Kasane, which is the residence for 50 snakes of 17 different species!
Chobe River Safari on Houseboats
A houseboat is what you should choose if you're planning to go on a river safari in the Chobe River. It's a novelty experience and you can rent one for 24 hours! You can see hippos, elephants, and crocodiles in their natural habitat, while you slowly drift along, in your comfy houseboat. It's a must-do in Botswana.
Jungle Safari in Chobe National Park
No visit to Botswana is complete without a visit to the Chobe National Park! It's one of the African game reserves with the largest concentration of animals! You can witness a wide variety of animals and birds, including elephants, lions, buffalo, zebras, and baboons. Seeing a hundred elephants lazily walking by the Chobe River is a sight you would cherish for a lifetime!
8. Singapore
It's one of the best travel destinations in Asia, known for exquisite cuisines from all around the world, large-scale tourist attractions, music festivals and concerts, sporting events, theme parks and the vast number of shopping complexes. Let's look at top five things to do in Singapore.
Changi Airport Attractions
Unarguably, Changi is one of the most attractive airports in the world, if not the best! Extremely clean and beautiful everywhere you look, Its got dozens of awe-inspiring attractions inside the airport itself! Some of the attractions include Arrival Garden, Bouncing Net, Forest Valley, and Kinetic Rain, to name a few. Next time you visit Singapore, start sightseeing from the airport itself!
Merlion Park
No Singapore trip is complete without a picture at the Merlion Park, in front of the great Merlion statue, which is the official mascot for Singapore! Also, the Merlion Park is a great place to relax and sip a hot cup of 'copi', looking at the beautiful waters of Marina Bay.
Gardens by the Bay
This stunning garden is a fine mixture of nature, landscaping, architecture, and art. You can freely wander around in the neatly-designed pathways and lose yourself in the spectacle of view. Some of the best attractions in Gardens by the Bay include the futuristic Supertree Grove, Cloud Forest, and Flower Dome.
Sentosa Island
It's the ultimate entertainment theme park in Singapore. Whether you want to relax, dine, play or to have adventurous rides, this is the place to go! Make sure that you allocate at least 2 – 3 days for Sentosa Island, out of your schedule.
Singapore Flyer
Even taller than the famous London Eye, the Singapore Flyer is the world's largest observation wheel! A single flight will last for 30 minutes and will run from early morning until late at night. You can select your time to see the magnificence of this beautiful country from above. It's a truly spectacular sight to see and one not to miss!
9. Kuala Lumpur, Malaysia
The modern capital of Malaysia is a constant tourist attraction, filled with ample shopping complexes, beautiful architecture, natural parks, exotic food, and lots of cultural activities to participate in. It is a good city to visit among the Top 10 travel destinations of 2020
Petronas Towers
A visit to Malaysia is incomplete without visiting the 451 meters high Petronas Towers, which was the tallest building in the world from 1998 to 2004 until it was surpassed by Taipei 101. After capturing that perfect picture in front of the towers, you can indulge yourself in shopping spree inside KLCC – Kuala Lumpur Convention Centre, which is just below the towers.
While you may have to stay in a lengthy queue to do so, if you get the chance, don't miss going to the top of the towers, as well as the sky bridge as well.
KL Tower
With a height of 421 meters, KL Tower is the 7th tallest free-standing tower in the world! You can get a spectacular view of Kuala Lumpur from the top of the tower.
Sri Subramaniam Temple and Batu Caves
This 100-year-old Hindu temple is made on a 400 million years old limestone hill! This vibrant temple, along with the 272 colorful steps which lead up to it, is guaranteed to take your breath away! Also, the 42.7-meter-high Murugan statue in front of the temple is the tallest Murugan statue in the world!
Sunway Lagoon Theme Park
Here's a place you can forget everything and just enjoy the whole day! The activities range from relaxing locations to adrenaline-pumping rides. The park consists of five different sections, namely, Amusement Park, Water Park, Extreme Park, Scream Park and Wildlife Park, each guaranteed to give you different types of chills and thrills!
Chinatown
It's a shopping paradise which is rich with culture and history. While the colorful themes surrounding you would keep you in constant awe, you can also strike a few good deals at the shops.
10. Pokhara, Nepal
It's the second most important city in Nepal, after the busy capital – Kathmandu and is the last among the Top 10 travel destinations of 2020. It's also one of the most scenic cities in Nepal as well. Its attractions include mountains, hills, lakes, shrines and absolutely stunning scenes. Some of the top places to visit in Pokhara are:
Annapurna Base Camp
This base camp serves mountain climbers of six gigantic peaks in the Himalayas. Located at 13,550 feet above sea level, travel to the base camp itself is exhausting, yet an enjoyable trek. While you may face fluctuating weather, on clear days, the picturesque scenes which your eyes may see, would be worth every single step you take!
Temple of Tal Barahi
This is a famous Hindu temple built in the 18th century, dedicated to Lord Vishnu. This calming and relaxing temple is situated on a small island in Lake Phewa.
Rowing in Fewa Lake
You can relax on the open beautiful waters of the Fewa lake. Silent rowing amidst natural sounds of the surrounding woods can be quite calming for the mind and the soul.
World's Steepest Zipline
ZipFlyer Nepal World's steepest zip line, with a 600-meter descent at a speed of 100 kilometers per hour! And all that it takes to finish this long trip is just two minutes! It's definitely not for the faint-hearted, but a must for adventure-seekers!
Paragliding
This adrenaline-pumping thrilling ride is only for adventure-seekers. The 30-minute ride to soar the sky is guaranteed to take your breath away! You can even ask for photos and videos of your ride, to keep as a beautiful memory of this adventure!
Final Words
These are the Top 10 travel destinations of 2020 and we hope your next adventure will be one that you would cherish for a lifetime!
"Fill your life with adventures, not things.
Have stories to tell, not stuff to show."
-Anonymous-
We have more travel-related articles composed by the Simpletarian editor team here